Exhibition identity for the exhibition Primate Climate held in March 2020, curated by
Hildur Elísa Jónsdóttir
. The visuals take inspiration from heat maps, a visual representation of weather and climate. Eighteen exhibitors took part in Primate Climate, with a wide array of artwork, paintings, sculptures, videos and more.
Í STÍL VIÐ PERSÓNULEIKA HINS LÁTNA


The exhibition Í stíl við persónuleika hins látna (Matching the Personality of the Deceased) was held in August 2019 by nine recent graduates from the Iceland University of the Arts. The exhibition explored the aesthetic of funerals and various post-death anxieties. The design references Icelandic funeral homes and brochures given out at funerals.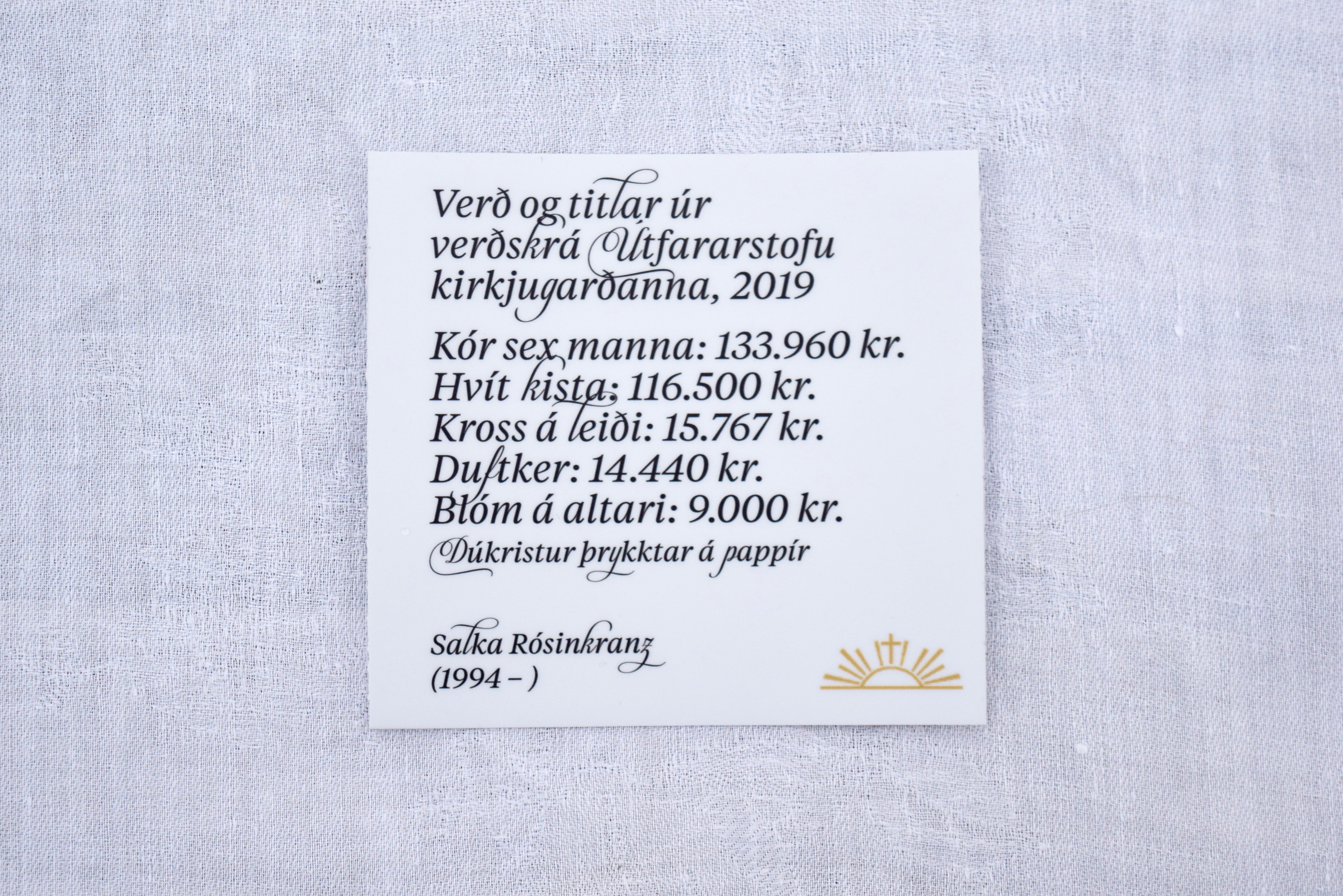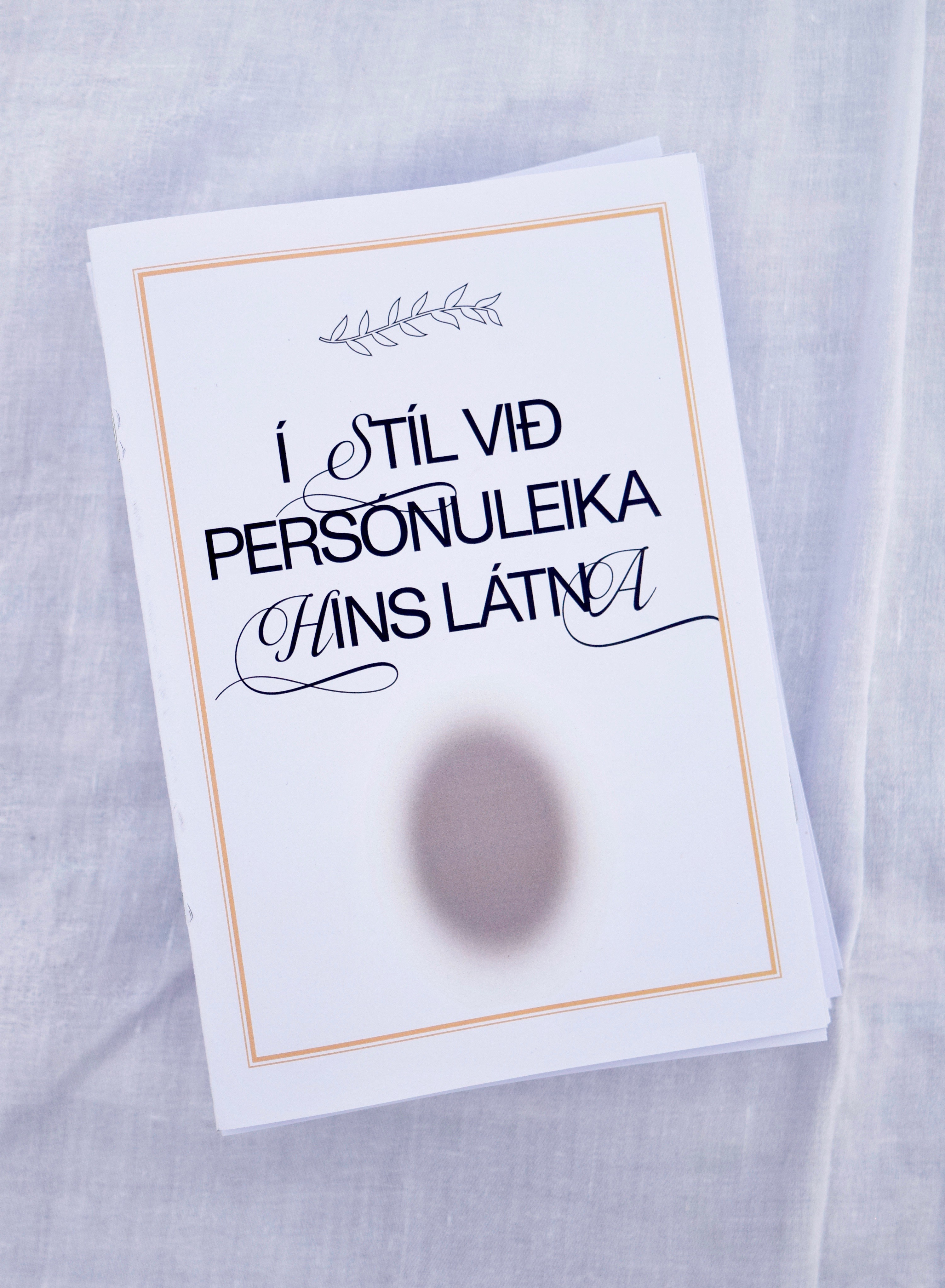 Vanitas
looks at the concept of vanity, how it has evolved through time and how it appears to us today. Is vanity a vice? Why? Who decides that it is? Within the book I consider amongst other things biblical ideas about vanity, and look at manifestations of vanity within art history. Is it vain to look in a mirror or to share your selfie on the internet? To pursue and avoid one's vanity can create a vicious circle. The typeface
Vanitas Display
takes inspiration from the semiology of vanity; decay, gentle smoke from an exstinguished candle, embellishment and ornamentation. Its readability is not a priority, the vanity is revealed by putting its form and aesthetics first.
BA graduation project from the Iceland University of the Arts, exhibited at Kjarvalsstaðir in May 2019.
Leifur Wilberg Orrason
photographed the exhibition.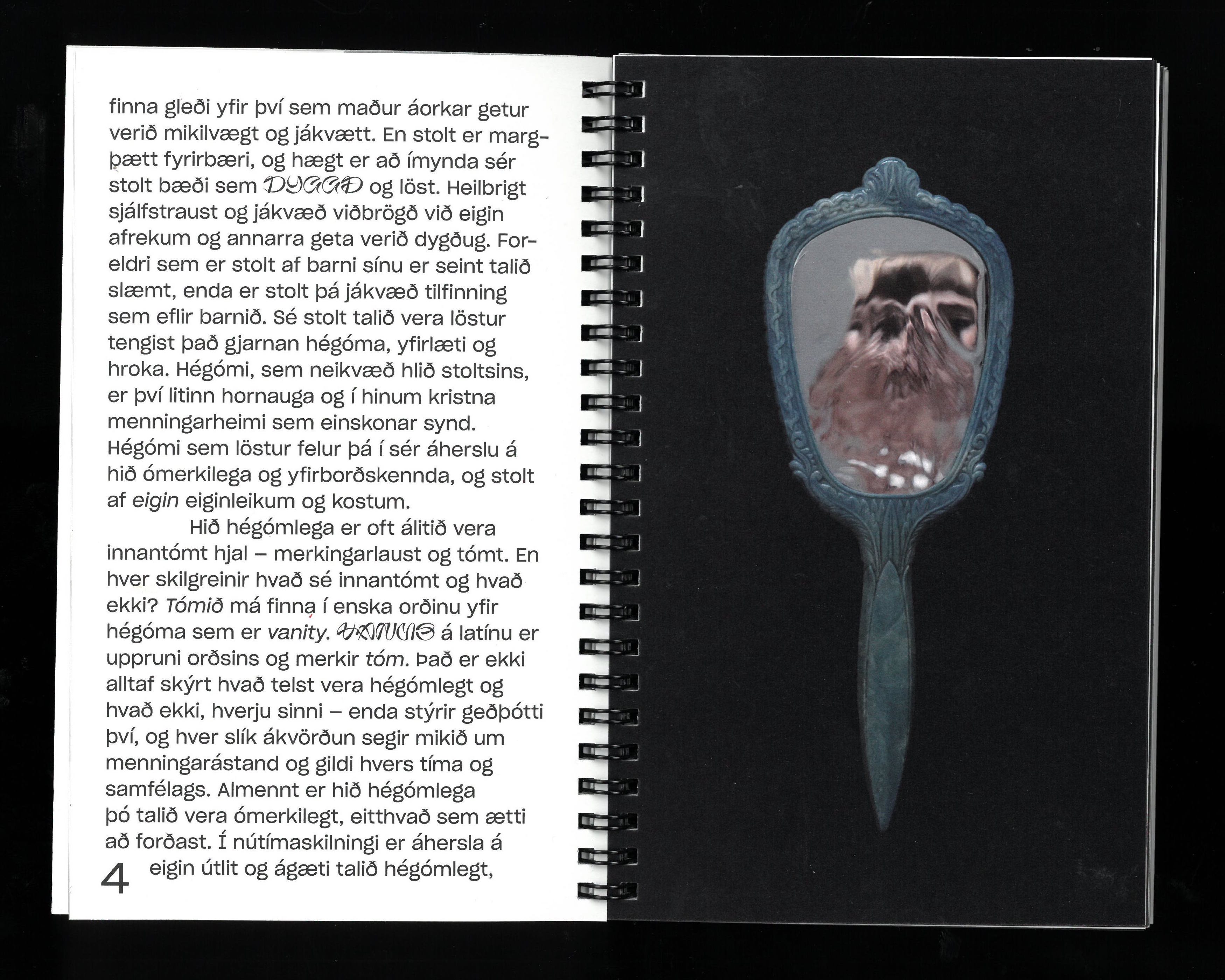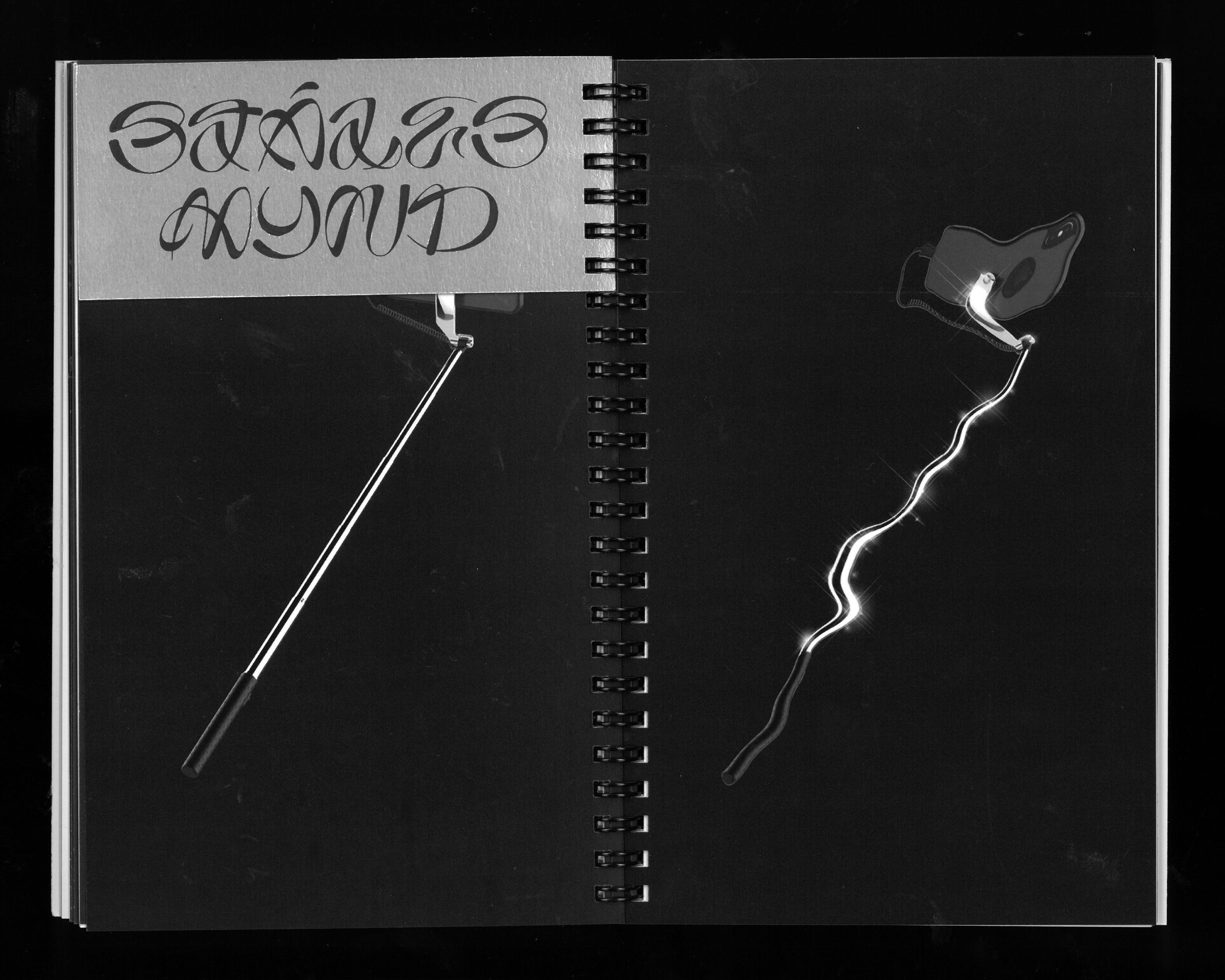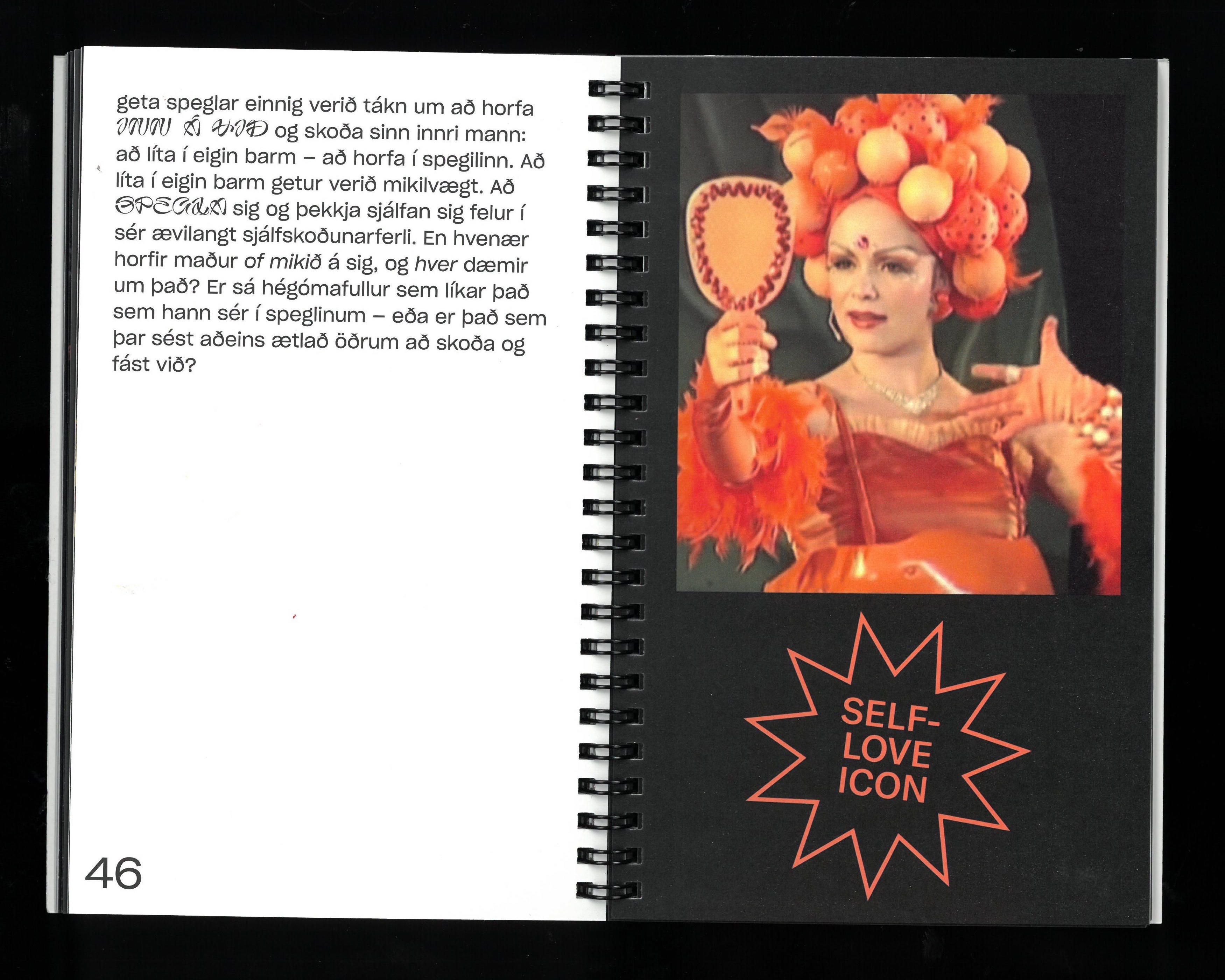 Gljúfrasteinn is the former home of Halldór and Auður Laxness, and is now a museum and cultural institution. My focus was to convey the values that their homelife and work was built upon, by finding a balance between references to the aesthetic of their lifetime and contemporary design. I created a poster series, a tote bag, pamphlet and I knit and embroidered a scarf.


The tenth issue of the design magazine Mæna was created by the third year students of the Iceland University of the Arts. This time the concept
trans
was the theme of the magazine. The concept often refers to actions that go across something or through something. The interpretation of the theme is broad throughout the magazine and appears through its articles and design. I also took an active part in creating the website for mæna,→
maena.is
Leifur Wilberg Orrason
photographed Mæna.